It was the most humbling experience watching the volunteers and guests arrive for the Gillingham Community Christmas Meal 2017. To see how the community pulled together and delivered the most wonderful day for the people of Gillingham and surrounding towns. The Methodist Church Hall rang out with laughter, music and mayhem as wafts of turkey and gravy pervaded the room. In total we had 58 guests for dinner including some that we took meals to. Over three days we had 60 volunteers, and we had so many donations of foodstuff, gifts and help from the whole community.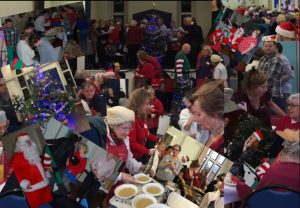 Grateful thanks have to go to everyone who helped particularly these businesses, who are listed in no particular order; without all of them the day would not have been such a success:
| | | |
| --- | --- | --- |
| Arnie, Sarah & George (Wine Bar) | Lagan Butchers | Rob & Tina Setchell of Dorset Chef |
| Downer Butchers | Bath Wholesale Fruiters | Rachel Loos |
| Gillingham Methodist Church | Flip Ant | Broad Robin Stores |
| ASDA | Waitrose | Gillingham Co-op    |
| Stalbridge Linen | Creative Catering | Gillingham Co-Op Funeral Care |
| 3 Rivers | Father Christmas | Gillingham Arts and Crafts Market |
| Gillingham Arts Workshop | Tess & Mark Hebditch | Jill Ezzard & Julie Hawkins GTC |
| Beaches Hairdressers | St Mary the Virgin Nursery | Mole Country Stores |
| Topsie Rabbit | Gillingham Primary School | Gillingham Foodbank |
| Catley Foods | No Fixed Abode | |
Even before the day many people had been involved in the build-up and preparation and the wonderful decorating of the hall on Christmas Eve.   As guests arrived for the day they were welcomed by an incredible collaboration of local singers and choir members organised by Gillingham Art Workshop who although had not sung as a group together before came along and led us all in familiar favourite carols. Mayor Belinda Rideout thanked the volunteers and launched the meal service.
The guests tucked into a wonderful 3 course meal with leek and potato soup, turkey, ham, pigs in blankets, fabulous roasties, parsnips, carrots and of course sprouts. To finish off there was cheese cakes, chocolate cake, rhubarb crumble, chocolate fudge brownie and lemon meringue pie, shortbread, mince pies and plenty of juice or tea and coffee to wash it all down.   Some fantastic servers and waiters dished the meal out and made sure everyone had everything they wanted.
Father Christmas made a slightly unscheduled stop on his way back to Lapland to hand out presents to all our lovely guests. Then to finish off the day, the singers from No Fixed Abode took to the floor and entertained the hall, with many guests joining in old favourites and singing along. In the background a small army of volunteers cleared, washed and dried plates, bowls, cutlery, made up party bags for each guest to take home with Christmas cards made by Topsie Rabbit and St Mary the Virgin Nursery children. They added the gingerbread men that had been made by Gillingham Primary School children.
Suddenly it was time for our guests to leave and they began saying their goodbyes and collection of their presents and goody bags. A few volunteers remained for a brief clear up. More volunteers arrived early on boxing day to clear the hall completely. Our grateful thanks to all at the Methodist Church for allowing us to use the hall for three days. It does make a difference.
Our thanks also go way beyond the list below. Many volunteers popped in with bits on the day or helped decorate or clear popping in and out. Others donated presents and food or equipment without which we could not lay on the day.   We thank all the unnamed helpers who did so much and also huge thanks to those below who came along on the day itself:
| | | | | |
| --- | --- | --- | --- | --- |
| Lynn Broom  | Sonya Ward | Paul Martin | Pam Fawcett | Paul Dyer |
| John Goodland | Penny Nightingale  | Sheila Kerby | Vicky & Eddie Morse | John Wickham |
| Michelle Byrne | Elizabeth Ewens | Tony Dean | Liz McGuiggan | Fran Hill |
| Alex Hill | Shasha Cobby | Chelsea Dyer | Ona Walsh | Chloe Nightingale |
| Rachel Hooper  | Margaret Kelly   | Graham Stride   | Paul Merry | Charlotte Morrisetti        |
| Julie Caine | Richard Posnett    | Sue Metelko    | Luke Campos Martin | Becki King |
| Lorraine Cripps   | Kate Hicks  | Maisie Hicks | Olivia Hicks   | Elizabeth Hazelwood |
| Colin Lambert | Sheila Gibbons | Chavela Mora | Jasmine Christie  | Jackie Robinson  |
| Rachel Carter | Lottie Carter | Grace Carter  | Mark Carter | Roger Wiltshire  |
| Belinda Rideout | Pete Macdonald  | Sandy Humphries  | Kate Minshaw  | Lana Richards |
| Stuart Hicks | | | | |
| | | | | |
| --- | --- | --- | --- | --- |
| Volunteer Drivers | | | | |
| Celia Goodland | Daniel Hill | Robert Wellen | Ann Morphew | Alison Santiago |
| John Witcombe | Beate Farmson  | | | |
On a personal note, young people often get a bad press but we were blown away by the number of youngsters in their teens or early 20s who came along to help.   There was a wonderful mix of old and young with both the volunteers and the guests.   It is wonderful to see our youngsters giving so much back.
Just because Christmas has been brushed away, the planning for next year's meal carries on behind the scenes so if you would like to be part of this please email   gillinghamchristmasmeal@gmail.com and we can update you as things progress.