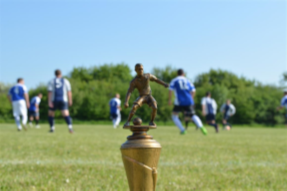 With the prospects of another predictable FA cup final and a Royal wedding on the same day, we thought it would be a good idea to offer a distraction. Mindful that the FIFA World cup is around the corner and England fans are ready for the sweet taste of beer and disappointment, we figured we would kick start the summer of footballing bliss with a local company football tournament at the home of GTYFC in Kington Magna. We wanted to involve as many local companies and teams as possible. What we ended up with was 15 teams with some Dextra staff who played for one of the four Dextra teams travelling from as far as Liverpool and London to join in the fun.  Just like the possibility of England winning the world Cup, every lad, Dad and even Grandad playing dreamed about their team picking up the winners' cup against the odds.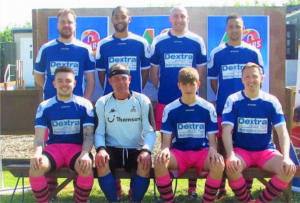 In amongst the intense football was some good rivalry and  great community bonding time. Many teams realised they had players that should have hung up their boots when Gary Lineker was giving us hope of winning the World Cup. Nevertheless, the good, bad and even the ugly fought hard in blistering heat and after 7 hours of football, without a cross word or expletive whispered, a winner emerged from the haze of deep heat and Lynx Africa. Dextra 3 deservedly were winners after a intense final with Stalbridge Linen Wincombe. Both teams created great chances and the quality of play was a joy to watch. Stalbridge Linen won the fair play award. Anuson Praman from Dextra 3 won Player of the Tournament.
The day would not have been possible without the help of GTYFC, especially Steve, Andy and Stuart who made pitches worthy of playing  an FA Cup final on. GTYFC raised  money for the club by collecting the car parking fees and selling teas and coffees on the day. The referees Chris Pike, Chris Jones and Dean Porter were outstanding and very professional all day, they gave up their time to us for free so that we could raise money for charity.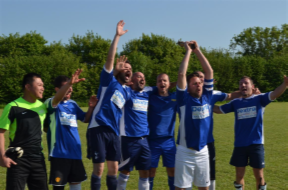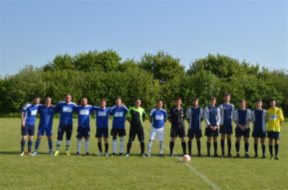 There were so many others that contributed towards the success of the day:
Sydenhams Ltd of Gillingham, Town and Country Aerials, Josh Sims of Southampton FC, Archie O'Donnell for keeping the scores up to date, Tamzin O'Donnell, Matthew Holehouse and Georgina Jones for the photography. Fast Feet Football for organising a beat the goalie competition, James Hillier of Yeovil town FC, Ian Lyster of Wincanton Racecourse, Phil Martin of Stalbridge Linen for raffle prizes – the list goes on.
We would like to thank all the teams that were part of this great day: Stalbridge Linen Wincombe and Sturminster, Marnhull Veterans, Valecraft, Design Jam, Thales, Gillingham School Teachers, Dikes, Fast Feet Football and South Cheriton FC. Everyone enjoyed and looked forward to the fabulous Jens ice creams from Cerne Abbas and Nana Moons catering from Gillingham.
We raised £424 for Mosaic who are a local charity who support bereaved children, young people and their families.
Dextra are celebrating their 40th Anniversary and this football tournament is being followed by a staff party in the summer that the 500 employees have all been invited to. Dextra remain the UK's largest independent manufacturer of Commercial, retail and Industrial lighting and hope to invite many more local teams to next year's bigger and better football tournament.
By Curtis O'Donnell and Henry Porter.