Gold Hill Museum opened for the season on Saturday 24th March with two new exhibitions, sponsored by BV Dairy.
One of the displays features life on a North Dorset dairy farm in 1940. It reveals how we take modern luxuries for granted.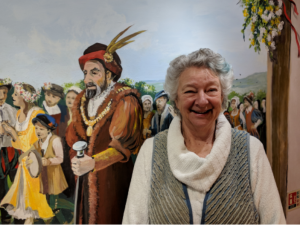 "I want people to realise how recently mechanisation hit farming," says organiser Janet Swiss. "Our featured farm employed four men and three horses. All the muck-spreading and milking was done by hand," she says. "Each cow was known by name – like Princess, Daisy and Queenie," Janet adds.
Janet's display includes a life-sized cow, as well as a scale model of the riverside farm that straddled 'chalk and cheese' arable and dairy land. The display also features the farm's first foray towards modern mechanisation – a model of a small Massey Ferguson tractor.
Janet is hoping that visitors will have fun guessing the use of a more unfamiliar implement – a mangold chopper.
"Thomas Hardy referred to this area as 'The Vale of Little Dairies.' I wanted to record how important these farms were in the social history of our area," Janet says.
Jim Highnam, Managing Director of BV Dairy, says, "It is a pleasure to be asked to support the Museum's latest exhibit, which obviously has such a close connection to our business. We hope it brings pleasure to the many people who will visit Gold Hill Museum in 2018," Jim adds.
Shaftesbury-based BV Dairy was founded in Kington Magna, a village in the Blackmore Vale.
"The Dairy continues to have strong relationships with, and purchases milk from, farms within this beautiful area," Jim says.
You'll be inspired to dig your garden in a hunt for treasure when you visit the museum's second exhibition, also sponsored by BV Dairy.
'Found Underground' features sixteen items discovered by locals on their land.
Whilst you're unlikely to find artefacts to rival the 1940s 'Shaftesbury Hoard' of 11th century silver coins, Janet says most objects uncovered reveal an interesting story.
"Oyster shells are regularly unearthed here," says Janet. "The shellfish was considered cheap food and was transported from Poole to a fish market on Gold Hill."
Visitors will be able to touch all the exhibits, including a hoop of metal called a patten. It formed part of an overshoe. "It would keep your shoe off the ground and out of the wet. People had damp, cold feet until very recently," Janet says.
If your own digging reveals an unusual item, you can bring it to the museum for identification by Ciorstaidh Trevarthen, the Finds Liaison Officer for Dorset, on the morning of Saturday 14th July.