On the 8th February, Dyosa Aesthetics opened at Fitness by Design Gillingham in the Old Market Centre. The launch was a success with quite a number of CJ's old and new clients who popped in and got their free Vitamin B12 injections, £50 Off gift vouchers, free lip and face products, mini consultations and of course some tea, cakes and champagne!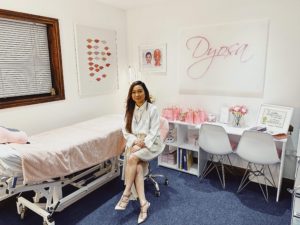 Christine Joan Manalo, also known as "CJ" was an overseas nurse who has over 10 years nurse experience and began her aesthetics work in Dubai back in 2015. She then moved to the U.K. and acquired her nurse qualification straight away. However, her passion for aesthetics has led her to set up her home clinic and work on her free days offering beautification and aesthetics services when she is not doing her full time job at the local nursing home. C.J. carried on attending further training courses to advance her skills and to accommodate client demands.
However, due to the overwhelmingly increasing number of clients and with more equipment that came with the other new services, the little spare bed clinic was getting a bit crowded. C.J. then decided to move to a proper clinic where she could see clients 5 days a week (Tuesdays to Saturdays), registered the business as Dyosa Aesthetics Ltd., and offer more of a clinical environment for advanced aesthetics procedures such as facial injections and laser treatments.
Consultations are free for a wide range of services such as dermal and lip fillers, wrinkle relaxing injections, advanced anti-aging skin boost, fat-dissolve injections, semi-permanent make up, eyebrow microblading, microneedling medical facials, dermaplaning, BB glow etc. Laser treatments and mega volume eyelash extensions coming next month.
You can take a look at more details from www.dyosa.co.uk or perhaps if you are wanting to see photos of her work, her social media galleries (Facebook: Dyosa Aesthetics and Instagram: dyosaaesthetics ) are always updated with before and after pictures of various treatments with clients' permission.
You can send her an email to dyosa_aesthetics_uk@yahoo.com or for quicker response to queries, you can contact her directly at 07398010517.
A fully insured Qualified Nurse Injector and Advanced Aesthetics Practitioner is the one to trust with all your basic to advanced aesthetics needs! Watch out for seasonal offers and discounts. Book your appointments now!