A group of Shaftesbury residents is celebrating after broadcast regulator Ofcom awarded their not-for-profit venture the community radio licence for the area. It means that Alfred, which has been creating online radio-style programmes or podcasts, will soon be available on FM radio, along with a host of other new local features and programmes.
"Alfred will be a unique radio station, tailor-made for Shaftesbury," explained managing editor Keri Jones. Along with his fellow directors, he will be unpaid. All of the reporters, interviewers, announcers and performers on Alfred will also be volunteers.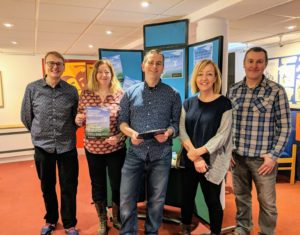 L-R Kevin Harrison, Amber Harrison, Keri Jones, Karen Brazier, Andy Hargreaves
Alfred won't try to compete with existing radio services and won't play pop or commercially available music. Instead, it will champion local music and performers. "The research we undertook early this year indicated that local people know where to go for their favourite music, whether it's pop, rock or classical. People are satisfied with existing national news provision too. Alfred will be all about Shaftesbury, Semley and The Donheads," said Keri.
Overheads will be kept to a minimum with no paid staff, no shareholders and no music royalty fees. That means Alfred won't be awash with adverts.
Ofcom recognised that key members of the Alfred team share an extensive professional broadcasting experience. The team will now begin training residents in the skills of radio programme making using everyday devices.
"With today's technology, it is remarkably easy to record radio interviews, commentaries and features on your laptop, tablet or the phone in your pocket," said Alfred director Amber Harrison. She says the Alfred Carnival podcast with Kipling Carnival Club members Matt and Steve Appleby is a superb example of how programmes can be made using phones and PCs.
The regulatory process is slow, and even though Alfred has been granted the licence, the station won't start broadcasting until at least 2021. That gives the team plenty of time to train the host of volunteers who will soon be bringing this unique local radio station to Shaftesbury's airwaves.If you want to join Alfred's team, please email hello@thisisAlfred.com