Gardening Author Anna Pavord At Shaftesbury's Snowdrop Festival
by Keri Jones
"If you've caught the gardening bug then you will be saved for life," Anna Pavord told me. "When you're feeling down, gardening helps immeasurably."
Anna's unique and uplifting perspective on Britain's favourite outdoor pastime has delighted her newspaper article readers for decades. And as raindrops streamed down the window, Anna surprised me by sharing her joy in Britain's unpredictable climate. "It's that uncertainty that makes the gardener feel gaiety and delight," she explained. "You don't have the faintest idea of how it's going to end up so you make the most of the moment."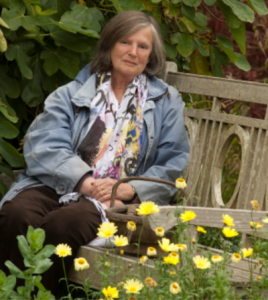 With such unbridled enthusiasm for gardening, I could understand why Anna's Shaftesbury Snowdrop Festival Study Day talk was expected to be a sell out.
Anna believes that her distinctive writing style is a result of a childhood visit to an Abergavenny chapel, where an orator's powerful words from the pulpit made a lasting impression on her. "The Welsh love words," Anna smiled. "You are brought up with wonderful language and singing around you."
The author's first copywriting job honed her keyboard creativity and made Anna the perfect choice for The Independent's gardening column, in time for the newspaper's 1986 launch. Anna's journalism duties introduced her to "real snowdrop people" including bulb specialists Matt Bishop and Alan Street, who enthused about Shaftesbury's celebration.
"These gatherings have become a big thing because snowdrops are a mania," Anna said. "On eBay, people can pay hundreds of pounds for single bulb."
Snowdrops haven't quite reached the historic value of tulips, the subject of Anna's 1998 best selling book. And even if that happened, Anna's passion for snowdrops can't be measured in pounds.   She told me that she's fond of the flowers because of their simplicity. "They enchant me," Anna said. "I love the way in which they naturalise, shaking hands between your garden and the wider landscape beyond. I like to see snowdrops growing in valleys and down banks, rather than a special bulb on its own selling for £60," Anna explained.
Throughout our chat, Anna stressed how gardens and gardening can enhance people's lives.
"John Sales used to be the National Trust's Head of Gardening and he brought me two snowdrops, Anglesey Abbey and Lynn, as presents. Our gardens become a web of memories. As we walk through them we remember how we got the plants and recall the people who brought them to us," said Anna.
Anna's talk focused on the different bulbs that gardeners can plant on a month-by-month basis to ensure year-round interest in the garden. Anna promised that she wouldn't be issuing a 'to-do list' during her lecture, but intended to inspire her audience.
"I would like people to go away feeling excited about the year ahead and thrilled that they have caught the gardening bug," Anna told me. And with Anna's extensive knowledge and her infectious passion, I expect the bug will spread rapidly.