Wonderful news now that anyone living with any form of dementia and memory loss can enjoy the free  'Swimming For The Brain' sessions at Riversmeet Gillingham.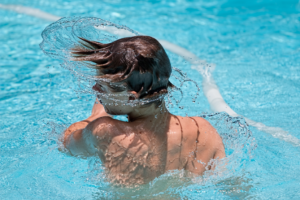 Every GP practice recognises that physical exercise and socialising help with quality of life, improving physical and mental wellbeing.  And since 'Swimming for the Brain' started in September the benefits to those who have been swimming has been encouraging; so it's really good news that anyone who has dementia or memory loss, can now enjoy this activity.
In the beginning it was restricted to just patients from the Gillingham Surgeries, but following a recent meeting it's been decided to open up the sessions to anyone who wishes to come along.  This will be good news to people who we know wanted to come from places outside the Gillingham area because they will now be welcome.
Everyone is invited to bring a carer or someone who may wish to join them in the water.
The sessions run each week on Thursdays, for an hour from 11am – 12noon. So if you feel you would like to share in the experience of this wonderful water therapy then all you have to do is just turn up, and enjoy this benefiting social activity in the watchful eye of all dementia aware Riversmeet staff.
Contact info@riversmeetgillingham.org     
Telephone 01747 834013