Shaftesbury Civic Society will salute the town's most community-minded resident, club or organisation with a new, annual prize.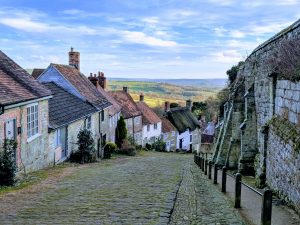 The winner of the first of the annual Rachel Caldwell awards will be announced during the society's Civic Day event on Thursday 21st June.
In making their decision, SCS trustees will consider which nominated group or individual has done the most to enhance the quality of life in Shaftesbury during the last year.
Mike Madgwick, Chairman of the Civic Society, said the trustees wanted to dedicate this new commendation to founding member Rachel Caldwell, who died in 2016.
Mrs Caldwell helped to establish the society in 1963 because she was passionate about preserving Shaftesbury's unique heritage and appearance.
"We've decided not to apply rigid rules and restrictive nomination criteria because we want anyone who has worked hard on behalf of our community to gain recognition," said Mike. "Although there will be only one annual winner, we're hoping that we'll be able to thank many worthy nominees on the night. We want to celebrate the strong community spirit that makes this town so special," he said.
Civic Society members should email their nominations to Honorary Secretary, Jackie Upton King at Shaftesburycivic@gmail.com.
All local residents are welcome to attend the Civic Day events on Thursday 21st June, where they'll have a chance to join the Civic Society and learn more about its campaigns, events and activities.
Programme highlights will include tea in the Gold Hill Museum Garden Room from 2pm followed by a talk on Shaftesbury social reformer John Rutter by author Sir John Stuttard. South West Wiltshire MP and author Andrew Murrison will also discuss his new civil-war era novel.
The Rachel Caldwell Award winner will be announced in the Town Hall at 6.45pm.