Registration has opened for Shaftesbury Fringe, with performers being offered a new, discount booking deal. And this year, organisers hope to transform the High Street into a space for public performance with artists displaying their creativity.
Shaftesbury Fringe co-chairman Rob Neely is urging members of Shaftesbury's artistic community to help decorate the town during Fringe 2020 by showing their work and creating pop-up art pieces. "Art doesn't have to be in the gallery," explained Rob. "It could be in the street. It could be anywhere. It would be nice to have something a little more unusual, more fringe-orientated."
Rob promises that the Fringe team will work on the logistics of displaying outdoor pieces if artists respond positively. "We can try and solve it," said Rob. His message to our town's artists is straightforward. "Get cracking. Art should be out there for people to see and I think it's a blank sheet, really."
Co-Chairman James Thrift believes the art in public spaces will help to make the event more prominent. "When you come into the town, you suddenly realise there are thirty or more venues and at any one time there can be thirty or more shows. But if you stand in the High Street, people wonder whether it is actually going on because it takes place behind closed doors," he said. "It would be fantastic if we could utilise that space, whether that is music, performance art or visual art."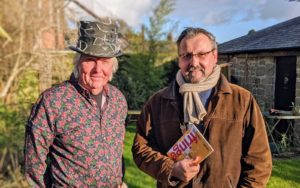 If you want to take part in the 2020 event, or you know someone who might be interested, you can now reserve your place on the Fringe website. Last year, organisers introduced a discount for performers who register early. That fee reduction for each show is being offered once again. "They have a month to register – the whole of January – at the early-bird fee of £15 per show. After that it's £25," explained Rob.
All of the money raised from registration gets ploughed back into the festival. Much of the cash is used to promote and market the Fringe weekend and to encourage people to visit the town. And it works – the turnover of some businesses can be boosted by tens-of-thousands of pounds over the weekend.
If you would like to book your show, visit ShaftesburyFringe.co.uk.  Shaftesbury Fringe runs from 3rd – 5th July 2020.